Parish Administration
His Grace, Bishop Gregory of Nyssa, Diocesan Bishop
Voice: (814) 539-9143
Email Bishop Gregory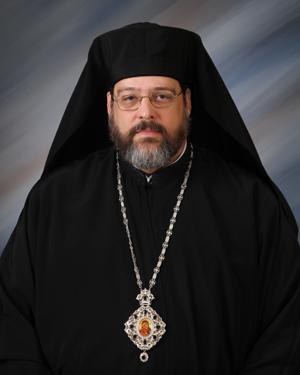 His Grace, Bishop Gregory of Nyssa, is the spirtual leader of the American Carpatho-Russian Orthodox Diocese, which maintains offices at 312 Garfield Street, Johnstown, Pennsylvania, 15906.
His Grace, Bishop Gregory was consecrated as Bishop and enthroned as the Ruling Hierarch of the American Carpatho-Russian Orthodox Diocese of the USA on November 27, 2012.
His Grace celebrates his Name's Day (St. Gregory Palamas) on November 14/27.
Under His Grace's care is our Diocesan Christ the Saviour Seminary, also in Johnstown, Pennsylvania, which trains future priests and deacons of our Diocese. In addition, the Diocese maintains Camp Nazareth Youth and Retreat Center in Mercer, Pennsylvania.
Bishop Gregory is also an active member of the Assembly of Canonical Orthodox Bishops of the United States of America where he serves as Secretary, Chairman of Committee for Agencies and Endorsed Organizations and Episcopal Liaison to Orthodox Christian Fellowship Campus Ministry.

Rev. Fr. Andrew Gromm, Presiding Priest

Voice: (516) 541-3628
Email: onearthasinheaven@yahoo.com
Fr. Andrew Gromm is the current pastor of St. Gregory of Nyssa Orthodox Church. He was born in Ottawa, IL and raised as a Roman Catholic. He joined Protestant churches during and after his college years, when he majored in Geography and German. After living in Germany for a while, studying and teaching, he came back to the United States as a teacher and eventually discovered the unchanged Apostolic doctrines of Eastern Orthodoxy, thanks to three Orthodox students. Always religious-minded since he was 8 years old, when his mother said that he would become a priest one day, Fr. Andrew was finally called to the priesthood and received a Bachelor Degree in Theology at Christ the Savior Seminary in Johnstown, PA. He was ordained in 2009 at 48 years old and was sent to Youngstown, OH. In 2014, he was assigned to St Gregory's parish in Seaford.
Fr. Andrew and Pani Yoanna are the parents of one son, Yusen and are pleased to serve St Gregory's Parish.